As Pride season arrives, we're thrilled to showcase four incredible queer-owned Bay Area clothing brands that will not only prepare you for the festivities but allow you to support the community throughout the entire year.
By supporting these brands, you can not only express yourself authentically but also contribute to the ongoing empowerment of the LGBTQ+ community. Celebrate Pride not only this month but throughout the entire year with these remarkable brands. 
The Archive
The Archive specializes in the realm of dark men's fashion. The store presents a meticulously curated assortment of handmade designer clothing and accessories sourced from emerging brands worldwide. With a discerning eye, the owner, Arthur, has assembled an exquisite collection that caters to every occasion. Prepare to be captivated, as each piece deserves to become the cornerstone of your wardrobe.
Explore the online shop, a veritable treasure trove that delights goths, punks, and leather aficionados alike. It's akin to stepping into a candy store, where you'll find an array of enticing options that perfectly embody your unique style and personality.
You can find their physical store in San Francisco's SoMa district at 5911 Geary Blvd. Follow them on Instagram to see the collection.
Show and Tell
Show and Tell was founded by Alyah Baker in Oakland as a unique and vibrant celebration of people of color, LGBTQIA+ folks, women, and other marginalized communities. This exceptional shop showcases a combination of handmade products from the brand itself, and a thoughtfully curated selection of ethical and sustainable goods.
On their website, you'll discover a diverse range of products that specifically focus on celebrating themes like Black joy and gay pride. Show and Tell is dedicated to providing a platform that uplifts and honors these narratives, allowing individuals to express their identities with pride.
They have a range of handmade creations and consciously-sourced products that embody the spirit of diversity and resilience. Click through to their feed to see their products.
HauteButch
HauteButch, a Santa Rosa clothing company, stands proudly as a Black-and-queer-owned-and-operated establishment. Founded in 2012 by Karen Roberts and Danette Sheppard-Vaughn, this visionary brand addresses a long-standing issue in the fashion industry: the lack of masculine clothing tailored to fit women's bodies.
While HauteButch has yet to launch a physical storefront, they offer suit fittings by appointment, providing a personalized and exceptional experience. Visit their website to schedule your fitting and witness their dedication to crafting garments that make a statement.
HauteButch's remarkable clothing selection and contact information can be found on their website, where you can explore their range of offerings. For inspiration and on-model styling examples, be sure to check out their captivating Instagram account.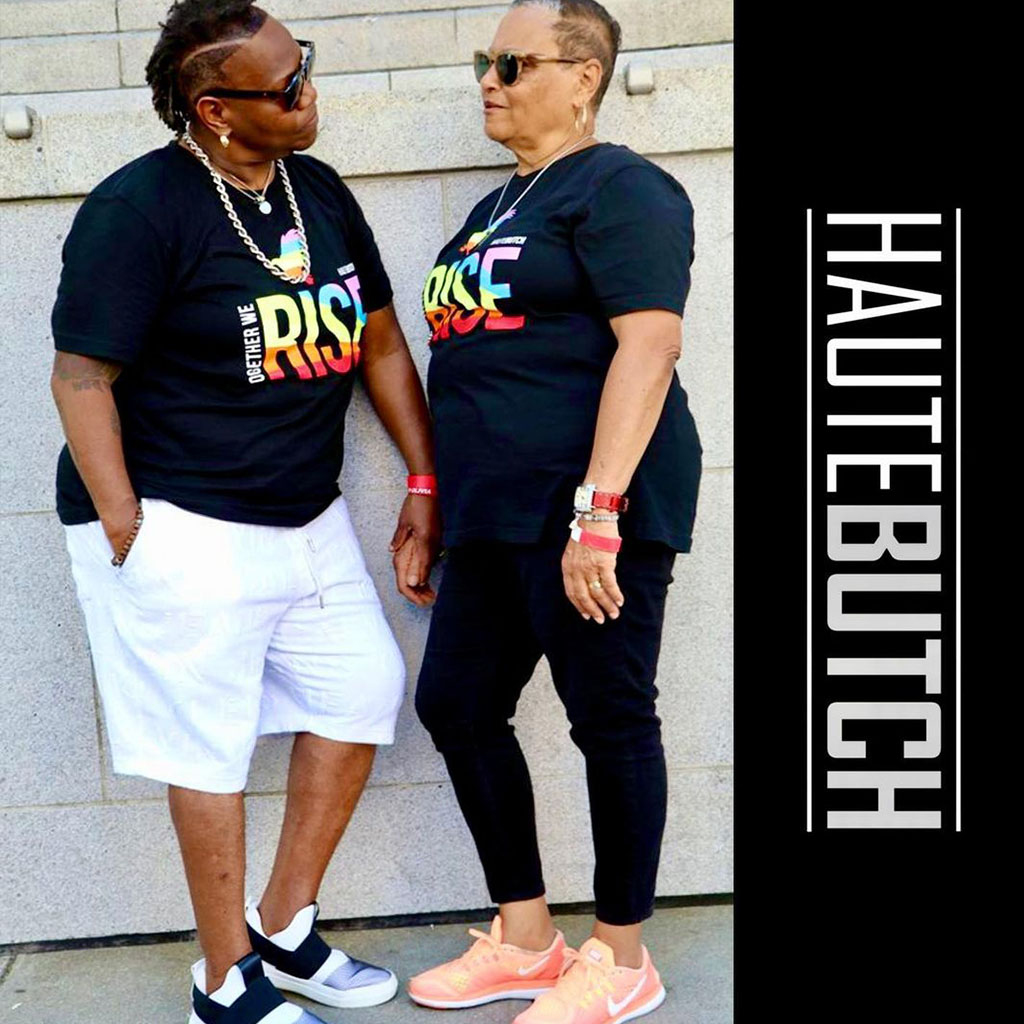 The Peach Fuzz
Founded in 2017 by Elizabeth Hudy, The Peach Fuzz is a San Francisco-based brand that aims to make activism accessible and enjoyable. While activism extends far beyond mere aesthetics such as cute stickers or quirky pins, The Peach Fuzz provides a platform to spread awareness in colorful and funky ways.
Express your opinions boldly and playfully with their vibrant collection, featuring shirts and stickers proudly proclaiming, "I survived Heterosexual Indoctrinations," and bucket hats adorned with, "Just Getting Bi." The Peach Fuzz allows you to flaunt your thoughts while maintaining an adorable sense of style.
Visit their online store to explore their captivating collections and discover unique ways to make a statement. The Peach Fuzz believes that activism can be engaging and visually appealing, allowing you to embody your beliefs through their colorful and expressive designs.
Follow the label's IG to stay up-to-date on product launches!
These are only a few of the queer-owned Bay Area clothing brands to know about right now. Follow along on our blog as we share the latest news, labels, and trends in fashion.